Patient Access Tackles LDM with Creativity, Sees Strong Success
The Patient Access team has had success in implementing Lean Daily Management (LDM) processes, leading to a big improvement in one of their Key Performance Indicators: reducing patient identification errors.
Introducing LDM to a team of about 55 employees who work varying shifts in 16 different physical locations presented a unique challenge. Michelle Cook, Patient Access System Coordinator, said the diverse makeup of the team meant that the issues facing central registration were different for those of registrars in the ED or the pre-encounter scheduling team. This made selecting the initial set of KPIs a tough process of winnowing down a long list.
One of the first KPIs the team selected focused on the process for properly identifying patients.
There was some initial hesitancy from the team in reporting data because it might mean highlighting mistakes. Michelle said it was important to reinforce the idea that the Learning Board and KPI measurements are about process improvement, and not individual people. Once that was understood, the team was on board.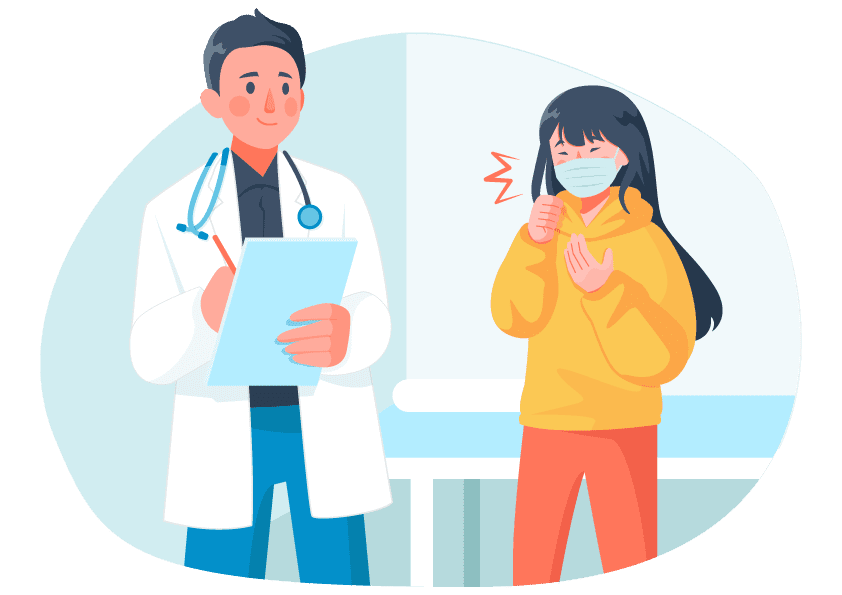 Tracking their safety goal on patient identification allowed Patient Access to uncover a problem with their systems. "We discovered some miscommunication between the registration and scheduling teams regarding patient names and spell backs," said Michelle.
They conducted a a "5 Whys" exercise to get at the heart of the issue and put an action plan together. That action plan resulted in immediate improvement, and a huge reduction in patient identification errors.
"Our board went from all red to all green almost overnight," said Michelle. "It was really exciting to see the engagement of the team and that everyone was dedicated to this goal."
Taking Big Steps on the High Reliability Journey
This year, NMC made great strides in our journey toward High Reliability. The organization rolled out Learning Boards in 18 departments to put a daily focus on measuring improvements in quality, safety, delivery and more.
The Learning Boards are a foundational tool that provide a visual display of the ideas that have come forward and how they are progressing through improvement effort toward resolution. Each day teams of leaders visit the boards on a Gemba walk (see related story) hearing about challenges and progress on Key Performance Indicators (KPIs) from front-line staff.
The staff engagement around identifying issues, measuring data with the KPIs and implementing solutions has been incredible. To read about two examples of KPI success, see a story about the Diagnostic Imaging Department and the Patient Access team.
The Learning Boards are a key part of High Reliability at NMC which is an ongoing focus on delivering safe and high-quality service or care even while operating in a complex and high-risk environment.
Many industries – including healthcare - have adopted High Reliability approach's including airlines and nuclear power plants where the risk of harm from error can be catastrophic.
Along with the daily Gemba walks, the Learning Boards provide a system for reviewing safety topics on a monthly basis through Executive Patient Safety Rounds. Each month, senior leaders meet with staff at the Learning Boards to ensure progress is being made and help overcome any barriers.
Organization-wide training on the principles of High Reliability re-started in person this year. More than 300 NMC staff attended trainings over the summer and early fall months, and High Reliability was added as a permanent part of the onboarding process for all new employees. A commitment to continuous learning is a key strategy of High Reliability organizations.
KPI Success Story with X-Ray Process
NMC's Diagnostic Imaging team found an opportunity for process improvement that would help their department be more efficient and strengthen patient privacy at check-in.
For years, patients who needed a general x-ray were able to walk-in without an appointment.  This presented three concerns for Diagnostic Imaging related to patient satisfaction, protected health information (PHI), and efficiency.
Because patients arriving for an x-ray didn't have an appointment they had to state aloud the reason for their visit, and then sit in the waiting area until they could be seen. This meant patient information could be overheard and delayed the check-in process while the practice support specialist manually entered appointment info.
During the COVID-19 pandemic, DI had to begin using scheduled appointments to ensure social distancing. The team used their Learning Board to track a Key Performance Indicator goal for service delivery and worked with Information Systems to find a way to make the process of scheduling and check-in private and efficient.
Putting the process improvement took three months and a great deal of collaboration with DI, IS and the Patient Access team. The changes to this process proved to be a big win for the Diagnostic Imaging team and their patients. Since implementation, DI has noticed a reduction in patient delays, increased efficiency, greater HIPPA compliance, and improved patient satisfaction.
Health Needs Assessment Takes a More Inclusive Approach
In 2022, NMC conducted a Community Health Needs Assessment but used a different approach than in years past, with a collaborative steering team using different data collection methods and casting a wide net for information.
Conducting a Community Health Needs Assessment (CHNA) is a federally mandated process hospitals must complete every 3 years to gain a comprehensive understanding of the community's health needs and then adopt an implementation strategy to address the identified needs.
The CHNA process shifted focus to recognize the impact of social determinants of health have on health outcomes. The newly designed assessment methods were intentionally designed to be more inclusive of historically and presently under-served and marginalized communities.
The CHNA committee used health indicators, focus groups, key informant interviews and an electronic survey to gather data widely.
77 Key Performance Indicators were reviewed.
20 key information interviews focused on attaining perspectives from communities including: migrant farm workers, single parents, individuals receiving home health services, members of our black, people of color and indigenous communities, emergency services, economic development, people with a disability, and people in recovery.
Five focus groups convened to take a deeper dive into the health needs of certain communities including Abenaki youth, seniors living in rural areas, LGBTQIA youth, military families, and people experiencing homelessness and food insecurity.
A community-wide, electronic survey explored linkages between health outcomes, built environment, community and individual demographics, social determinants, and access to health services.
Themes that emerged as important health needs including:
Affordability of care
Access to Care
Safety and Belonging
Community Gathering and Connectedness
The steering committee took the gathered data and shared it back to the community in public spaces, at events and in meetings, asking for help with prioritization. The info is displayed on posters and a "dot-mocracy" approach asks community members to take their most urgent need with a dot.
Once the themes have been prioritized, an action plan will be developed based upon a problem-driven data statement that comes directly from the data gathered from the community. Work on the action plan will likely continue with a collaborative approach as NMC takes part in the Grand Isle, Franklin Accountable Community for Health to develop lasting solutions to complex problems with affordability, access, safety and connectedness.
Safety
Champs
To emphasize our focus on safety, NMC recognizes a staff member each month who is doing great work on safety.
The Gemba Walk at NMC
Staff-Led Process Improvement an Internal Investment
Northwestern Medical Center is focused on being a high reliability organization (HRO), committed to high-quality care, open communication, and self-driven improvement. HRO's are organizations that successfully attain their missions despite massive complexity and high-risk environments.
"NMC's relationship with the community is one based on trust. That is quantified through consistent levels of safety and quality being provided to our patients and employees," says Jonathan Billings, NMC's Interim Chief Executive Officer.
What is a Gemba Walk?

A Gemba Walk is a workplace walkthrough which aims to observe employees, ask about their tasks, and identify productivity gains. Gemba Walk is derived from the Japanese word "Gemba" or "Gembutsu" which means "the real place", so it is often literally defined as the act of seeing where the actual work happens.
"Health care is a fast-paced and high-stress environment already," says Billings. "Providing a zero-harm environment remains priority."
Employee surveys reflected a staff desire to be involved in the long-term improvement of their department and organization. With approximately 800 employees to consider, figuring out how to engage people in that process was key.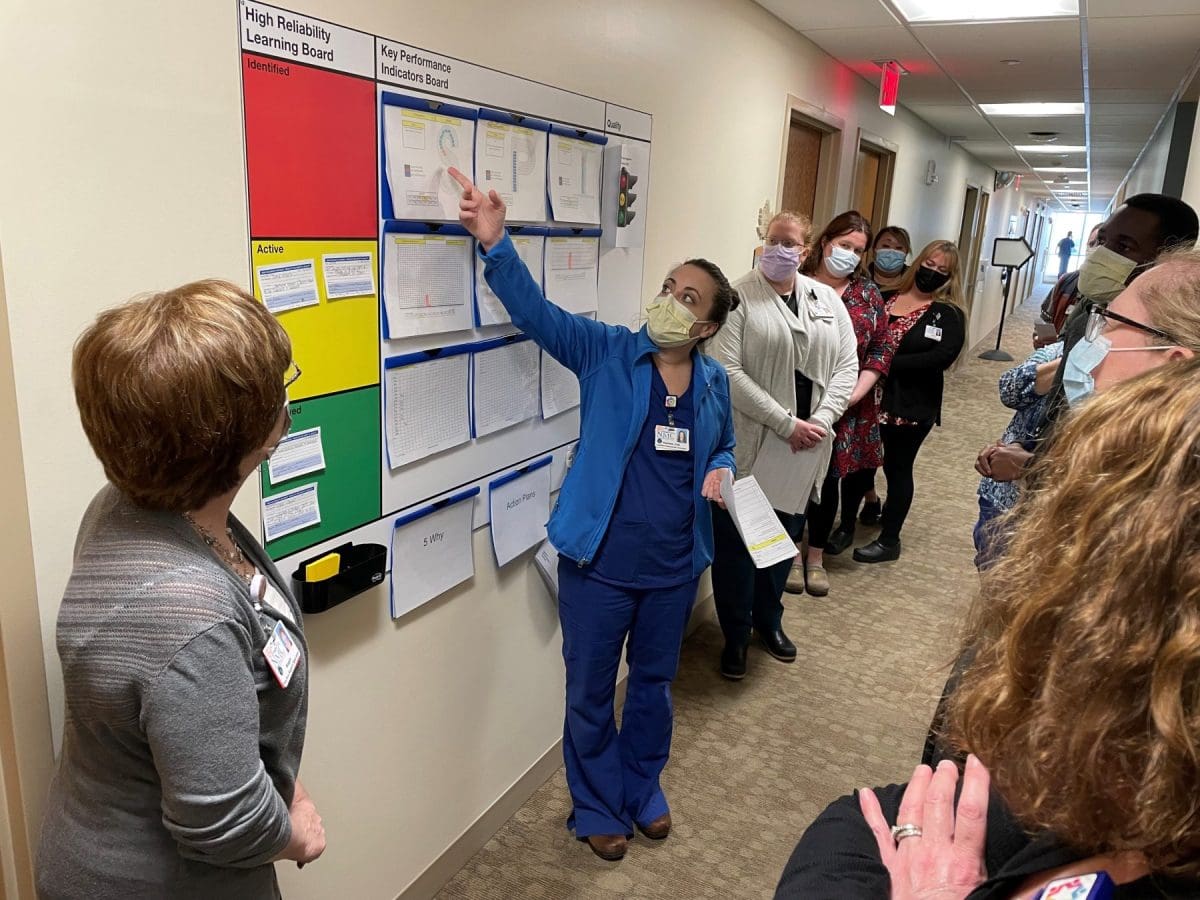 NMC's senior leadership team chose to implement a successfully documented, daily-initiative called a Gemba Walk. The Gemba Walk is based upon concepts of Lean Daily Management (LDM), continuous improvement through small, incremental changes in processes to improve efficiency and quality. The walk is what it sounds like - an opportunity for senior staff to walk the floor of the hospital, to better understand the care environment and its challenges.
What is meant by Lean?

Lean management is an approach to managing an organization that supports the concept of continuous improvement, a long-term approach to work that systematically seeks to achieve small, incremental changes in processes to improve efficiency and quality.
The Gemba Walk, is one of the 5 Lean guiding principles, an activity that takes management to the front lines on a daily basis.
"It's not about who to blame, it's about what and how to fix a problem," Billings says. "It's never punitive."
Gemba Walk procedures began at NMC in 2020, with the pandemic requiring a pause. At that time six departments were participating, while 19 departments now have active Key Performance Indicator (KPI) boards visited daily during the Gemba Walk.
"The connection between leadership and staff is strengthened through the daily interactions at the board," says Betsy O'Rourke, NMC's Process Improvement Project Manager.
"It also allows for the frontline staff who are doing the work to be the individuals driving the change to promote patient safety and job satisfaction."
O'Rourke has been instrumental in facilitating the KPI boards and tracking the collected data, as well as educating others through the process. O'Rourke has been at NMC for three years, serving in her current role for about six months. She underwent months of training with Mary Ann Megimose-McClay, with Next Level Partners, LLC, a firm hired by NMC to help initiate the Gemba Walk procedures.
"I am excited about the collaboration NMC is demonstrating with the KPI boards and Gemba Walks," O'Rourke says. "This role allows me to help support and encourage that collaboration."
At 8:15 a.m. each day, the Gemba Walk team consisting of five senior leaders and another six departmental directors, meets at their KPI board. They split into two pre-assigned groups to begin their walk, which lasts approximately one hour. Each group visits nine departments, each stop lasting four to five minutes. The amount of time it takes for the group to walk between KPI boards has also been calculated into their route.
The Gemba leadership group must stay together en-route, with no side conversations, offering full attention and respect to the staff presentation at the board.
"Every morning someone from each department will present the past 24-hours' worth of data to leadership during the Gemba Walk," says O'Rourke.
Departments create their own goals, tracking relevant data on their KPI board, as well as choosing which staff member will present to the leadership team.
"The Gemba Walk leadership group will discuss trends found on the pareto (chart) with the presenter and encourage additional tools to progress the department's goals forward, while troubleshooting challenges," says O'Rourke.
As data presentations end, one final question is always asked, "Do you have everything you need to meet today's goals?" Whether it's Billings, CMO Dr. John Minadeo, or another leader asking, an assurance is given that the respective needs will be addressed.
"I take part in Gemba Walks every day and when trends align within a department, I follow-up utilizing lean tools such as "5-Why" or process mapping, to identify the root cause and define action steps to move their goals forward," says O'Rourke.
As the morning Gemba Walk closes, the leadership groups converge at their board to track their own measures of how the walk went.
"The Leadership group discusses challenges or wins found during the walk, as well as action plans for any department that may need help with meeting one of their goals," O'Rourke says.
The Gemba Walk often provides situational awareness on topics like staffing and supply needs for next 24 hours and allows for real-time adjustments. Highly reliable leaders are taught to manage by anticipation and prediction rather than reaction, to best keep patients, families, employees, and visitors safe.
As the leadership group disperses from the KPI board, they head into a 15-minute Safety Brief meeting, held at 9:15 a.m., seven days a week. Active for about a year and a half, the Safety Brief is designed to share both recognition for use of High Reliability tools and processes, as well as any safety concerns or issues that need to be addressed by a team that includes all department leaders.
The hour of 8:15 to 9:15 a.m. is known internally as a 'No Fly Zone,' preventing unwarranted schedule conflicts.
"This is a process, a culture change," says Billings. "It is a shift in how we recognize and address goals."
Many of the KPI boards are located where patients and visitors can easily view them, keeping in line with the transparency aspect of the process.
"The great thing about Lean Daily Management and the use of KPI boards is that they promote an environment of continuous process improvement," says O'Rourke.
"Healthcare is always evolving. LDM tools allow us to measure and evolve with it so that we are always looking at how we can better take care of our patients and ourselves," she says.
"This is the work," says Billings, "to help our staff improve processes and implement the changes, benefits our patients and the internal flow."
Recognizing that those closest to the frontline are often the experts and empowering them to make decisions when a critical issue arises, results in quicker mitigation of harm. Creating the safest environment, the most efficient workspace and flow for staff, while providing quality care for patients are imperative elements of any medical facility.
"Safety and quality, along with empathy and respect," Billings says, are NMC's four keys to success. "My hope is that this is how we will continue to run the hospital going forward."  ---
Story: Sarah Parsons West for NMC
October 2022
Characteristics of High Reliability Organizations (HRO)
The theory of high reliability has come to healthcare from naval aviation and the nuclear power industry.
1. Preoccupation with Failure
Everyone is focused on errors and near-misses, learning from them and figuring out how to prevent them from happening again. Attention to detail is crucial. Finding and fixing problems is everyone's responsibility and is encouraged and supported by leadership.
2. Reluctance to Simplify Interpretations
Constantly asking the "why" question and inviting others with diverse experience to express their opinions. The belief is that the more you're immersed in something, the harder it is for you to objectively observe and question things that need questioning.  Leverage new thinking to get the right answer!
3. Sensitivity to Operations (an HRO Distinguishing Characteristic)
An ongoing concern with the unexpected. Closing loopholes in processes where there is potential for patient harm, maintaining situational awareness, developing teams that speak up and paying attention to the frontline – which in hospitals is primarily nurses, patient care attendants, techs and support staff.
4. Commitment to Resilience
The concept that things will go wrong that we can't predict; mistakes will be made, and we will get into trouble. But we will quickly identify issues and have structures in place so we can immediately respond and minimize the harm.
5. Deference to Expertise
Finding and using experts for the given problem in the given time. Recognizing that those closest to the frontline are the experts and empowering them to make decisions when a critical issue arises results in quicker mitigation of harm.
In HROs, senior leaders are conducting Gemba Walks, to reinforce safety behaviors and find and fix critical safety issues. They're also meeting in daily operational briefs where they look back to learn from failures and look forward to predict and lessen risk or harm, to best keep patients, families, employees and visitors safe.
Data edited from: Weick, K. E., & Sutcliffe, K. M. (2001). Managing the unexpected: Assuring high performance in an age of complexity. Jossey-Bass.
Hand
Hygiene
To emphasize our focus on hand hygiene, NMC recognizes the department with the highest rate of hand hygiene compliance.
The World Health Organization has identified hand hygiene as the most important measure healthcare workers can take to avoid transmission of harmful germs and prevent health care associated infections. NMC is monitoring staff compliance with hand hygiene as one of our key quality initiatives, with monthly reporting and recognition of the top teams. Attention to clean hands has improved our scores from in the 60 percent compliant range to above 80 percent.
Hospital-Acquired Infections Data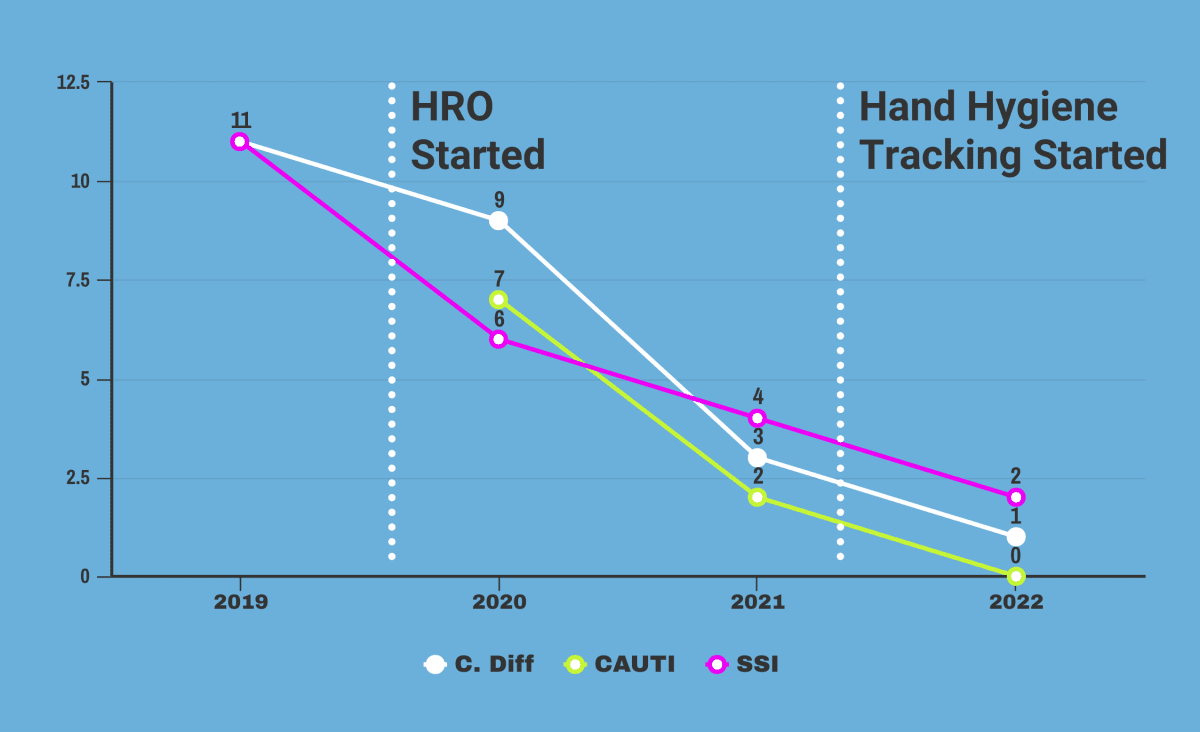 As another key quality initiative, NMC is measuring rates of hospital-acquired infections to keep these stats low as we focus on patient safety and high-quality care. Our attention to continuous improvement and High Reliability principles are helping hard-wire changes that are leading to declining rates.