Highlights
Investing for a Healthier Community
As a not-for-profit organization and as one of the largest employers in the region, NMC carries a responsibility (formal and informal) to help address critical issues which impact community health that go beyond the direct care NMC provides. We do so through our 'community benefit investments' (a term of the Internal Revenue Service – IRS) to help our community achieve a healthier future.
NMC's vision calls on us to "partner to improve the wellness of our community." Investing in wellness and prevention to prevent illness and chronic disease and reduce the demand for costly medical treatments is a vital part of bending the cost curve in healthcare long term and improving the quality of life. We are a significant funder for the Franklin Grand Isle Tobacco Coalition efforts, which has been instrumental in reducing the rates of tobacco use in our community. We are the major funder of the Healthy Roots Collaborative, the diversified agricultural effort in our local region which is helping fresh healthy local produce and foods into homes across our community. The return on these investments is long-term and it is real. The national Prevention Institute says, "For every dollar we spend on prevention we see a 5 to 1 return on investment in just 5 years. We simply can't fix our economy without it."
On top of these focal efforts relating to community benefit, NMC provides close to $100,000 a year in funding to key community partners working on priorities within the community health needs assessment, on social determinants such as housing, and on related efforts to improve the quality of life. These agencies are able to have a positive impact in areas outside NMC's direct expertise, but which directly impact the lives of our patients and our staff. NMC is a significant funder of the United Way of Northwestern Vermont and also provides donations and support to partners including: the American Red Cross; American Heart Association; Vermont Maple Festival, Martha's Kitchen; Tim's House; Franklin County Home Health; Hard'Ack; the Afterglow Foundation; Spectrum Youth & Family Services, Northern Forest Canoe Trail; the Franklin County Regional Chamber of Commerce; the Howard Center; Special Olympics; Make A Wish; Northwest Family Foods of CVOEO; the Friends of Northern Lake Champlain; Fairfield Community Center, the St. Albans Rotary Club; and more. No single individual or agency can tackle the challenges of our community alone and NMC is proud to collaborate with these great partners as we work collectively towards a healthier future for all.
COVID Resource Center Provided Unprecedented Community Support
In the summer of 2021, the State of Vermont began preparing for the fall season of the COVID-19 pandemic, anticipating increased cases and a need for increased testing and vaccination.
The state offered NMC a contract to create and staff a new clinic to meet this need and in September the clinic opened in the Medical Office Building.
Demand ramped up immediately and the clinic moved to Valley Crossroads using an outdoor, drive-through model for testing with vaccinations provided inside the building.
This COVID Resource Center operated from September 2021 through June of 2022. The clinic operated six days per week, for approximately four hours each day with the hours evolving over time to meet the demand. Staff dealt with a rollercoaster of changing operational needs, including preparing to offer boosters and vaccinations children. The testing service moved indoors in the winter to protect staff and patients from the harsh weather, and the vaccination clinic relocated to the Cobblestone Health Commons building on NMC's campus.
Throughout the unpredictable and stressful life of the clinic, the CRC team performed nearly 23,000 self-swabbed tests in this time frame and gave out nearly 1,700 take-home kits. The vaccination team provided approximately 5,000 adult COVID vaccinations and about 1,500 pediatric vaccinations. During the CRC operation, the infection prevention protocols protected staff and patients, with zero patient-to-staff infections or staff-to-staff infections.
CuddleCot Donated to Family Birth Center at NMC
Family Birth Center Staff accept the generous gift of a CuddleCot donated by Scarlet's Mission. The CuddleCot was designed to provide grieving families with time to form a bond with their baby following a stillbirth. The CuddleCot is a cooling pad placed on the baby's mattress that cools to an ideal temperature to preserve the baby without being too cold for the parents. This allows time for families to bond with their baby and to grieve their loss.  It is used in thousands of hospitals across the world, and NMC is one of seven hospitals in Vermont to offer this support for families of a stillborn.
NMC Employees celebrate Pride 2022
2022 Golf Tournament
After a two-year hiatus due to the pandemic, the Community Partners Classic returned! Golfers and volunteers enjoyed a beautiful and fun day of golf at Champlain Country Club to raise money for Northwestern Medical Center and Northwestern Counseling and Support Services (NCSS). NMC and NCSS partner in various capacities to care for the wide range of health and human service needs of the people in our community. Proceeds raised from this annual event help support both organizations and our work.
2022 Employee Awards Banquet
Each year we recognize staff who have reached years of service milestones. These honorees were recognized at our Employee Recognition Banquet held at the Abbey Pub and Restaurant and received a commemorative certificate and a gift as a token of appreciation.
Congratulations to all of our Years of Service honorees and thank you for your dedication to NMC and our community!
United Way Campaign
Thanks to our staff's generosity, we raised just nearly $40, 778 in donations during the 2021 United Way Campaign. It was one of our biggest fundraisers yet – and it is all thanks to our NMC donors!
Funds raised through pledges, donations, and participation in fundraisers of this annual campaign help support programs in our community that benefit all of us. The United Way of Northwest Vermont is a vital partner for local nonprofits to help support their impact on health, education, and income in our community.  Their work spans many key issues affecting our vision of a healthy community, including:  addiction, homelessness, hunger, abuse, childcare, aging, and employment.
Harvest Moon Cruise
In September, the NMC Activities Committee sponsored a Harvest Moon Dinner. NMC Staff and Volunteers attended the Activities Committee event on the Spirit of Ethan Allen enjoyed a lovely evening!
NMC is incredibly appreciative of our Volunteers who support our hospital operations specifically in the MOB, Main Lobby, Surgical Services, Gift Shop, Courier, Café, Cobblestone Reception, Enosburg PT and Pet Therapy. Earlier this year, we were able to recognize with an in-person event and thank them for the special contribution they make to our community hospital.
In May, NMC celebrated Hospital Week with fun activities that include a free staff BBQ. Our Restaurant and Catering team cooked amazing food and members of our Leadership Teams helped serve. It was a beautiful day to come together and celebrate one another.
NMC Employees Show Off Their Ugly Sweaters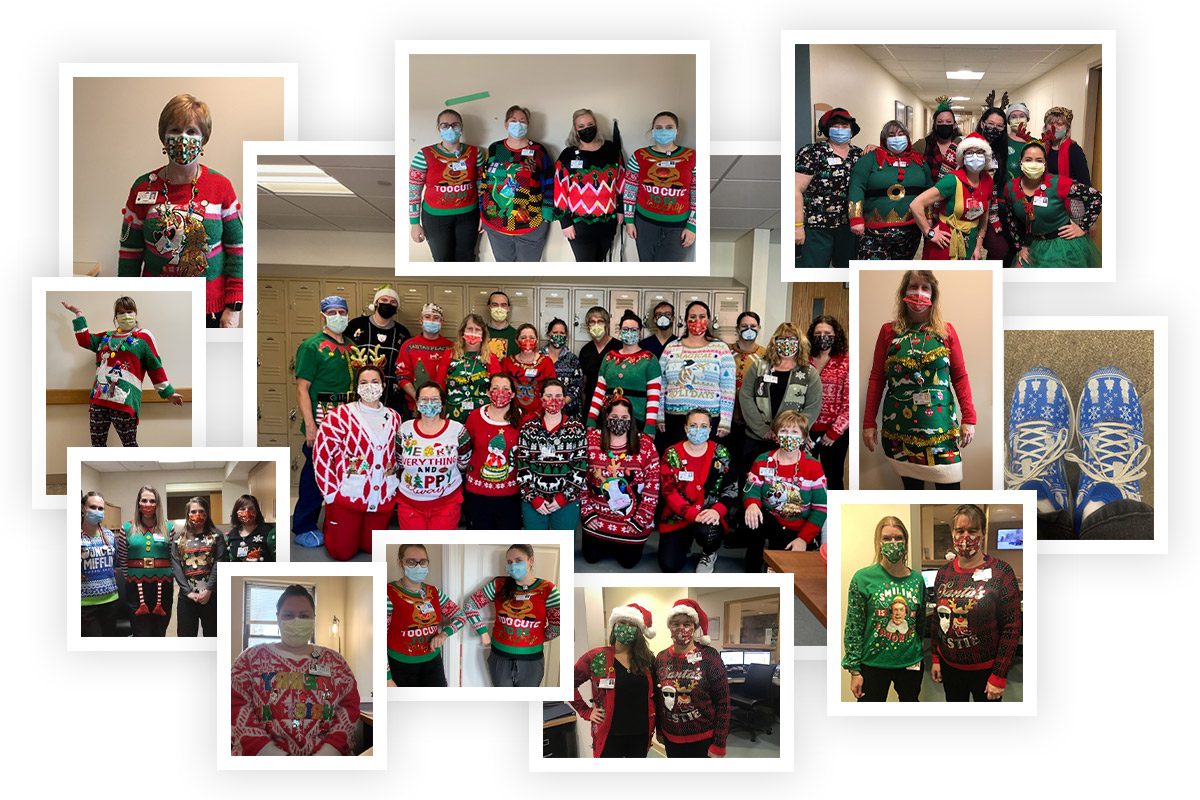 Wearing Pink
Every year NMC has a "Wear Pink" day in recognition of October as Breast Cancer Awareness month. NMC'ers are encouraged to wear pink masks, scrubs, outfits and more to show their support of Breast Cancer Awareness.